About Amica
With over a century of experience in the insurance business, Amica knows the key to providing our clients with peace of mind is great customer service. Our employees at the Cleveland Regional branch are well-informed on the products we offer, and someone is always available to help with questions and concerns. We're here to provide our customers with discounts and an insurance experience that is seamless – from choosing a policy through to managing a claim.
Products
Insurance is one of those things that everyone needs, but that doesn't mean one kind of coverage fits all. Amica's wide range of products and discount bundles are designed to meet each customer's individual needs and provide peace of mind every step of the way.
From full, comprehensive home, life and auto insurance policies to a specific need for condo or renters insurance, we have a wide range of options – including discounts for bundling multiple policies – designed to fit both your lifestyle and your budget. To talk with one of our representatives about what we have to offer, give us a call today – or get started with an online quote.

"If another insurance company offered to give me my insurance and I wouldn't have to pay anything, I would say no. I have been happy with Amica for a very long time."
Guylene S.
Hamilton, Ohio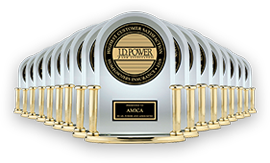 17 YEARS
OF PEAK PERFORMANCE
Amica is awarded "Highest Customer Satisfaction Among National Homeowner Insurers" 17 years in a row.*
A+
Coverage you can count on
When it comes to getting your claims paid, you can always count on us. We have an A+ (superior) rating for financial strength and claims payment ability from A.M. Best Company. †
#1
Our customers are our No. 1 priority
"At Amica you are not just a customer, you are part of the company ... you are family ... thank you everyone at Amica, amazing people!"
Miguel B., Dallas,Texas