About Amica
We all seek out great experiences and at Amica, we believe in making auto, home and life insurance a great experience too. Our employees at Maine Regional are knowledgeable on the ins and outs of our products and can help guide you through quotes and the process of making claims. With a number of discounts to offer, we're proud to continue serving our customers in the South Portland market, providing them with a great insurance experience – from deciding on a policy to reporting a claim—that works for them.
Products
Everyone needs insurance, but not everyone needs the same policy. Every customer has different needs and expectations from their policy. That's why we designed a range of products and discount bundles that put your peace of mind first – and ensure you're getting the most from your money.
If you're searching for auto, home and life insurance – or condo and renters insurance – we can work with you to design a bundle that fits your needs. To get more details about what we can offer you, get a quote online or call to talk with a representative today.

"Been with them since 1962! Will never change companies! Compare all other businesses to standard Amica has set!"
Dale P.
York Beach, Maine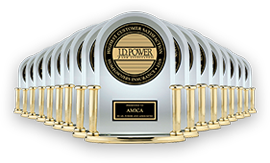 17 YEARS
OF PEAK PERFORMANCE
Amica is awarded "Highest Customer Satisfaction Among National Homeowner Insurers" 17 years in a row.*
A+
Coverage you can count on
When it comes to getting your claims paid, you can always count on us. We have an A+ (superior) rating for financial strength and claims payment ability from A.M. Best Company. †
#1
Our customers are our No. 1 priority
"At Amica you are not just a customer, you are part of the company ... you are family ... thank you everyone at Amica, amazing people!"
Miguel B., Dallas,Texas